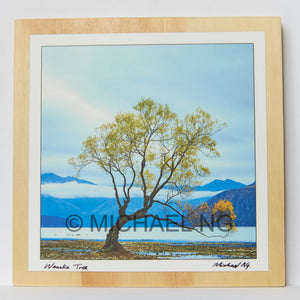 Wanaka - New Zealand
$2995

$29.95
Tax included.
---
---
That Wanaka Tree
There is no place like home and No place like New Zealand.
Handmade in New Zealand and created by our talented NZ Artist, these images are a must to have in celebrating our beautiful country.
Square NZ Wood base with New Zealand Landscape Image which has been personally created by our NZ Photographic Artist.
Approx 17cm x 17cm
Weight approx 170grams
Ready to hang  
Signed by 'the Artist' - a personal touch to enhance the value we place on our beautiful NZ pieces.

#Glenorchy #MilfordTrack #NewZealand #NZ #NorthIsland #SouthIsland #Queenstown #GoatIsland #Auckland #Coromandel #MavoraLakes #BethellsBeach #MitrePeak #Wanaka #thatWanakaTree #Piha #Murawai #thatWanakaTree
---
We Also Recommend
---